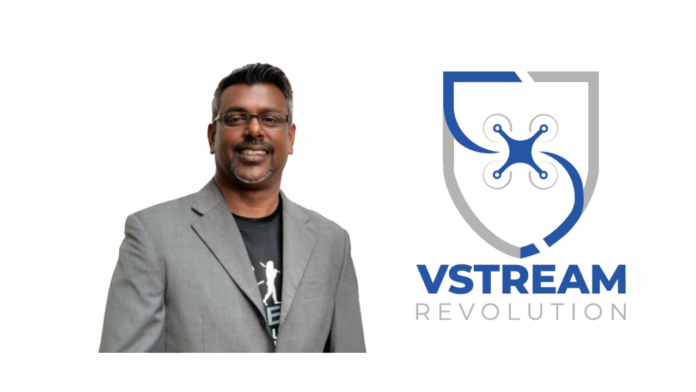 Author: admin
Date: November 27, 2019
Meet Saravanan Letchumenan, CEO of VStream Revolution
Disruptr: Saravanan Chettiar Letchumenan – CEO of VStream Revolution
Share with us on what you do and what inspired you to start the business.
I help drone operatora to "Increase Revenue, Reduce Risk and Operate Safely" with my startup Vstream Revolution Sdn. Bhd, 1st Drone Insurance in Malaysia. We provide Drone Insurance for Drone Repair or Total Loss Claims and 3rd Party Claim. 1st Drone Consultancy in Malaysia
We also provide Drone Consultancy with ready-to-use Checklist, Operation Procedure, Operation Manuals, Permit Application Services and Certified Drone Training
What has the journey been like?
The journey has been filled with a lot of Ups and Downs, there were times we were celebrated the milestones we achieved and there were times, we faced great losses that had financial impact. Dronetech is new and challenging, however we believe it's the futuretech that will be transforming every industry in future.
Biggest achievement and what is one regret that you wish you had or had not done?
Being the 1st Drone company to have successfully conducted "Urban Drone Delivery Proof of Concept for MAGIC" with all required approval from authorities on 6th March 2021.
My regret not being able to commercialise the Drone Delivery Solution
Where do you see yourself in the next 1 year?
We hope to serve 20% of DroneTech market size in Malaysia and also capture 5% of the ASEAN Market (Singapore & Thailand). Additionally, we hope to roll out Drone E-commerce platform
Where do you see yourself in the next 5 years?
We hope to further strengthen our market size by capturing 40% of the DroneTech Market Size in Malaysia and have a stronger presence in ASEAN, with an aim of capturing 15% of the region (5% of Singapore, 5% of Thailand & 5% of Indonesia)
What keeps you going to keep running the business?
Drone Operation involves RISK, I wish to help each drone operator to mitigate the risk with our Drone Insurance and Drone Consultancy services for a Safer Sky.
What is one local startup you would like to work together with and why?
We would like to work with a startup that's involved in Dronetech Services, to provide our services.
Who is one founder (local or international) that you look up to?
Why should investors invest in your startup?
We have validated our product since 2019, and we have the 1st mover's advantage in Drone Insurance and Drone Consultancy in Malaysia.
VStream Revolution is a member of 25 Startups, a startup incubator with presence in Sarawak, Penang, Cyberjaya and Johor
Articles from https://www.disruptr.com.my/meet-saravanan-letchumenan-ceo-of-vstream-revolution/